Foppiano & Lynch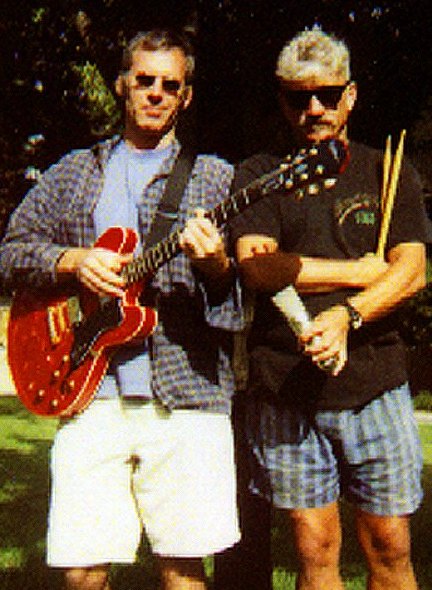 If you want some cutting-edge ads to draw attention to your business, these are the guys.....Billy Foppiano & David Lynch...two musician-geek-techno-spinners...
David drops sound effects into cartoons for Warner Brothers (if you have kids, they know David's work intimately)and Disney, and is an EMMY award winning sound editor (1996/97). David specializes in Post Production Audio, Sound Effects, and can sync to video.
Billy is known as "the Guitar Wizard", and is well known in San Luis Obispo for being able to play a wide range of music....he is a music programmer, and can provide many grooves and styles.
Together, these guys are wacky and funny if ya want it!!!
They don't do Bank ads, unless they can wear shorts and sunglasses to the meeting..
AND: And Here is our -new- audio deal for the Meridian TV commercial (Meridian Fine Furnishings, stores in Arroyo Grande and SLO) in April '04. It's a mix of elegant groove and etheral abundance! Dru, David's wife, did the voiceover-we got it goan!! Click HERE!!
But we GUARANTEE some effective, attention-getting ads that WILL get noticed in a positive light..how 'bout some examples:
The following are MP3 files that are 30-60 seconds long that will download in 2-4 minutes..
1.Our ad Stuff we've done, stuff we can do, in a nuthell...
2. Popolo -Commissioned jingle, and yup, we wrote the copy and did the Voices...everything!
3. Popolo ad...People still laugh, and do you know who the mysterious chicken is? We'll never tell you it is Denny Carvalho, drummer of the Mighty Croon Dogs
4.Rideshare Ad (done to the tune of "Rawhide)...one for San Luis Obispo's Rideshare.org.
5.Debonaireyes.com (Music with attitude, donut at the end)
6.Debonaireyes.com (Restaurant- Version)
7. Debonaireyes.com (Slow Blues/Jazz for soft jazz market)
8.Debonaireyes.com (Office environment)
9.Debonaireyes.com (Country/Rock Market)
10.Debonaireyes.com (For Classic-Rock Market)
Click Here to Send Email! ,
or give us a buzz at: (805) 546-8863 (TUNE)
Back to funlivemusic.com