COMPLETE WEDDING PACKAGES AVAILABLE!
* Live Music for Your Ceremony
* Master of Ceremonies
*Yes, we wear Tuxedos, if you want us to!
*Assistance with Wedding Coordination
* Live Music for Your Reception
or CD wedding music for your ceremony
Send us E-mail directly to inquire about availability
Call Billy -- (805) 546-8863
---
Recent Thank you (2008)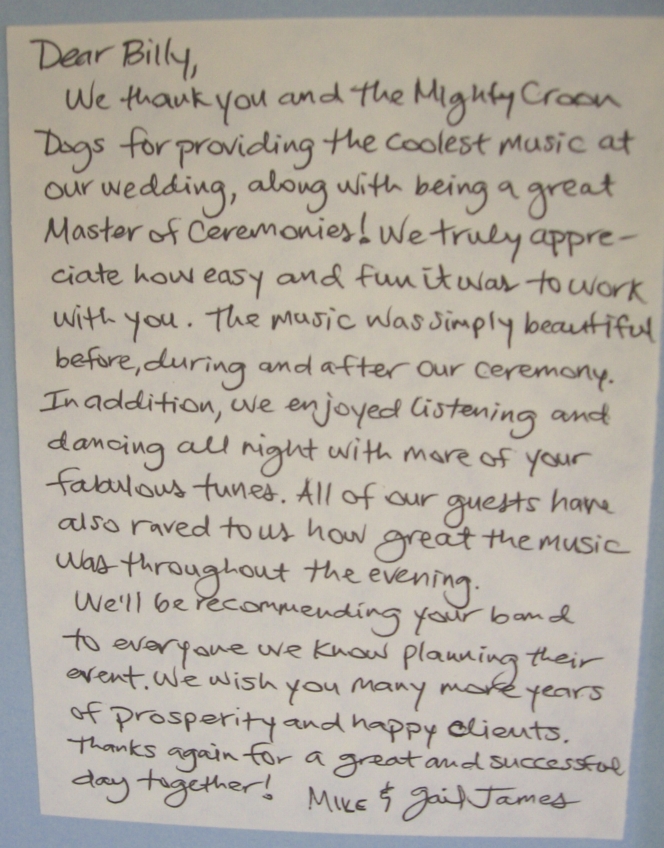 Thanks youse guys! Stay in touch!!!!
---
Download the actual PDF (click me!)

With Sincere Thanks and Appreciation

Mr. Billy Foppiano & The Mighty Croon Dogs
805-546-8863
E-mail funlivemusic@fix.net


April 16, 2008

Dear Billy & The Mighty Croon Dogs,

GOD'S HAVENS FOR CHILDREN thanks you for your support for our 2008 fund raising
event at The Clubhouse in San Luis Obispo. Thank you for joining with Louie Ortega and
providing our guests with an incredible evening of great music and fun! We consider you
and your group to be community partners, as your assistance helps us to serve the
children, youth and families that we have been entrusted with.

Sincerely,

James Davis, MPA, Director
GOD'S HAVENS FOR CHILDREN
California Central Coast Services
P.O. Box 13426 – San Luis Obispo, CA 93406
Phone: (805) 772-4004 Fax: (805) 772-4424
www.ghfci.org
Download the actual PDF (click me!)
---
Here's what Laura said about us after a prospective bride (Annie) asked about us:
Hi Annie,
When Billy asked me if I would mind giving a reference I was happy that he thought of us since we enjoyed them so much at our wedding.
We first heard the Croondogs play on our first date at the SLO Wine Festival. When we got engaged they were the first and only band we considered. We called them up and they were available for our wedding with only 4 months notice. We were married in May 2002.
I recommend that you check out the Croondogs in person to see if you like their music and style. They are versatile and fun but most importantly gifted musicians.
To be specific, I highly recommend them for the following reasons:
1) Great music for dancing. Their song list is very dance-oriented.
2) They're a lot of fun. They seem to really enjoy what they do and being part of the big party.
3) They are great at going with the flow. They let each of my 2 brothers sit in, one on drums for several songs and the other singing as well as my new brother-in-law singing.
4) They are flexible with the schedule of the wedding, no problem changing the order of things on the day such as when to cut the cake or toast. They worked around us.
5) I really wanted Billy to play Concerto in D Major for guitar by Vivaldi for the processional of the wedding. He didn't know the song but agreed to listen to a tape and try to learn it 2-3 days before the wedding. We had agreed to a backup plan of "What a Wonderful World" if he couldn't learn it in time. I assumed that it was to close and he wouldn't have time. So, when I walked down the aisle I was delighted that he had learned the song and played it beautifully. If you're not familiar with the song, ask Billy or find it, it's beautiful for the processional.
6) They are willing to travel. Our wedding was at the family ranch and they were totally professional. They were on time and ready, started when we asked them to and played extra long until the guests were danced out. By the way they did dress up for the wedding, and their even willing to wear tuxes I think if you want.
7) The cost of the band was very reasonable. It was far less than the crappy band that played at a friend's wedding up North.
Well, I hope this recomendation is useful. Just so you know, we arenot related in any way to the people in the band. We just enjoyed them so much that I'm very happy to recommend them.
Since the wedding we've seen them play one time in Templeton park. My husband and I have been very busy enjoying our new baby...
Good luck to you and congratulations on your upcoming wedding.
Laura
---
Thanks Laura! Please stay in touch, and now Isaak is mentioned on the Internet..Not bad for not even a year old! Please stay in touch, and say "wooof" to Bronco for us....

Back to Funlivemusic