Great wedding music for San Luis Obispo,Monterey,Santa Barbara,Cambria...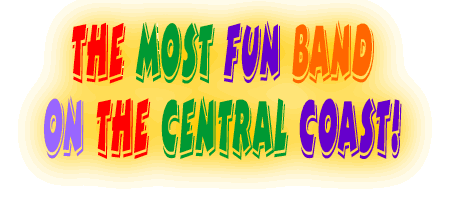 VERSATILE --
The Mighty Croon Dogs of San Luis Obispo are known for their ability to play all types of music, perfect for listening or dancing. From classic rock 'n roll to big band swing tunes to smooth jazz, this talented ensemble can please audiences of all ages and all musical tastes. They can throw in a little rhythm and blues,classic swing, country, reggae, Latin, soul--whatever you like!
PROFESSIONAL --
These accomplished musicians have become one of the Central Coast's top choices for entertainment at wedding celebrations and other special events. The Mighty Croon Dogs are members of the Central Coast Wedding Professionals and have wide-ranging experience playing just the right music for that special day.
FUN --
The Mighty Croon Dogs have earned a reputation for putting a smile on everybody's face with their dynamic, upbeat style. Their warmth, enthusiasm and genuine joy come through their music. The Mighty Croon Dogs take great delight in adding a sense of magic and fun to a memorable day.
COMPLETE WEDDING PACKAGES AVAILABLE!
* Live Music for Your Ceremony
* Master of Ceremonies
*Assistance with Wedding Coordination
* Live Music for Your Reception
Create a mix of LIVE/iPod wedding music for your ceremony
Send us E-mail directly to inquire about availability
Call Billy -- (805) 546-8863
Also, go to our WEDDING MUSIC PLANNER PAGE for tips on how to plan for the music for your very special event!
---
Here's what brides and grooms are saying about
the Mighty Croon Dogs --
---
As of NOV 15,2009
Dear Billy and The Mighty Croon Dogs,
Last Saturday marked the one month anniversary of our wedding. We meant to contact you sooner to convey our thanks to all of you for truly making our wedding reception a fantastic, fun and memorable experience! You had everyone dancing all night, and your ability to adapt your musical selections to the mood of all the guests was really incredible. For Jill and myself the night went by in a flash, but we really enjoyed ourselves while it lasted. We look forward to seeing the video tape and reliving the event and hearing your music again! Also, thanks so much for seamlessly weaving in my uncle's accordion playing, my family's group song and all of the toasts. Both your your musical and social professionalism were deeply appreciate and enjoyed by all--especially us!
Thank you again,
Jill and Colin
P.S. Please feel free to use this email as a testimonial, or let us know if you'd like us to write one that is more specific to certain aspects of the night or your musical talent!
---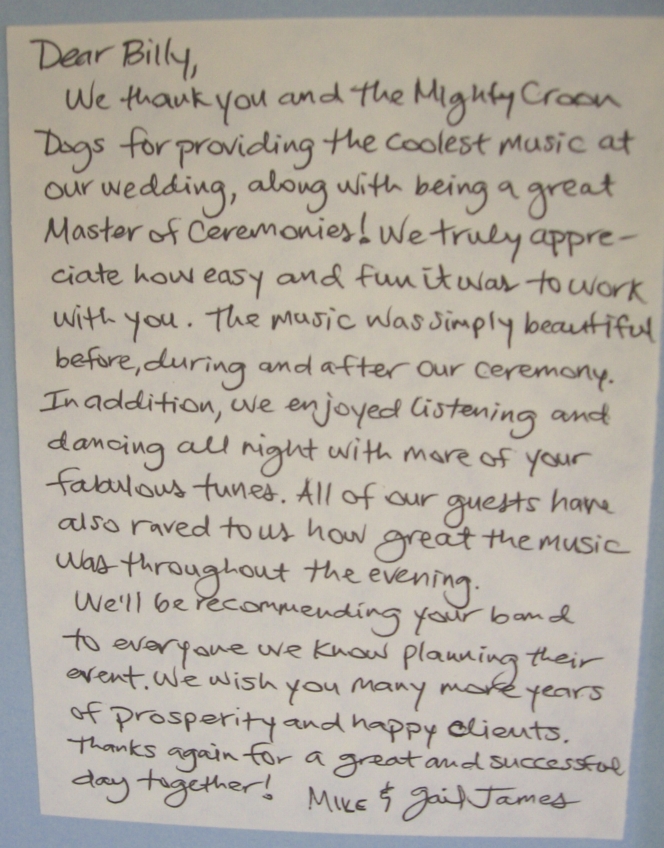 Thanks to Gail & Mike, who had their wedding at Trumpervine on 8-8-08.....They are wonderful, and we wish them the best!!
---
from http://www.weddingwire.com
Without a DOUBT - The MIGHTY CROON DOGS is the PERFECT wedding band! These guys are TIGHT and they know how to have fun!!! Billy and his crew are a joy to have around and amazing musicians as well! They added my song requests without batting an eye and the whole night was a dancing fool fest! Their repertoire runs the gamut and is a crowd pleaser for ALL ages! The band resides in San Luis Obispo, but they are WORTH DOUBLE the cost if you're lucky enough to get them to travel to So Cal! I LOVE the MIGHTY CROON DOGS!!!
4/18/2009
From our pal Jody, remarking about her tre cool wedding in Malibu, Calif . The best to this great couple, David and Jody! Whatta blast!
---
I would like to acknowledge this fine group of musicians I had the honor of working with on January 10th, 2007 in Cayucos. I have heard bands before and many are very good. I feel that "The Mighty Croon Dogs" needs to be recognized as one of the funnest and best bands in our area. Billy Foppiano and his band mates did a superb job. I did not want to leave the reception. From providing wireless mics for the toasts to creating sounds that had everyone off their seats and dancing the night away. My son, who is 13 years old, also enjoyed this event, but most of all the music that "The Mighty Croon Dogs" performed. Keep up the good work and I hope to work with you again soon. I will always be able to produce a great video if the band or DJ keeps the party rock'in!
Alex Caballero, Caballero Video Productions , 2/2/07
---
I just wanted to say thank you for the wonderful job you did with the music at our event. It ws especially kind of you to come out for the rehersal--way above and beyond the call of duty, but very much appreciated. How lucky am I that I found you! You guys did such a great job with everything—creating a mood, reading the crowd, keeping us going. It really made our event so much fun and I can't thank you enough.

Yours sincerely,
Stacy and Terry
Thank you so much for making our wedding a joyous dancing event.
-- Loretta and Ken
I wanted to drop you a quick line to say thank you and your band very much for the wonderful time/performance at our party at the Cayucos VetsHall.You guys were spot on for the party: tunes, theme, quality, volume,energy and enthusiasm were just perfect.We received a ton of feedback saying "what a great band those guys were", "what a fun band", "where did you get those guys". Christine andI completely agree!Again, thanks for being a part of, and making our celebration that much more special.
Thank you, Tim & Christine
Thank you to the Mighty Croon Dogs for playing at our wedding. You were just fabulous, and everyone loved you and the music. We will definitely recommend you to all our friends.
-- Audra and Steve
People from young to old loved the music. It could not have been any better. We'll keep an eye out for your gigs when we need a dance fix!
-- Susan and Dave
A gold star for making our wedding so special! Thank you for letting us all sit in and for playing the swing songs we asked for ( too bad we couldn't remember the steps we learned in class!). Thanks for doing such a great job.
-- Lisa and Michael
Great wedding music for San Luis Obispo,Monterey,Santa Barbara,Cambria....
Back to Funlivemusic