Simulated above are two guitars Billy plays, a Music Man Axis Sport, and a MartinD28. However, a gaggle of guitars are always used, ranging from the popular Tele, the mellow Gibson Les Paul, to the"Lollar Strat ".an unbelievable spanky Strat with Jason Lollar pickups....Que mole, amigo!

<![if !supportEmptyParas]> <![endif]>

Look out for an upcoming CD with a warm blend of acoustic and electric musical styles...Talkin' bout San Luis Obispo stuff... Preview some snips!

---

Getting very close to finishing CD- Check back here for availability, as it will be offered exclusivly here (and outa the trunk of my car!)...and throughout San Luis Obispo County...


P.O 12028
San Luis Obispo
PH (805) 546-8863 (or 546-TUNE)

<![if !vml]><![endif]>Send Email!

Once a week at the Cambria Pines in Cambria (usually Monday)
More info at the San Luis Obispo
Gig Calendar


LIVE Music is the BEST!

Woof!!!

San Luis Obispo professional musician Billy Foppiano is one of the Central Coast's most talented and versatile guitarists. Dubbed"the Guitar Wizard"by music reviewers, Billy plays and sings a warm mix of popular rock, blues, jazz, country and more, designed to suit a wide variety of musical tastes.

Billy has been pleasing crowds all over the San Luis Obispo area for more than two decades, both as a solo musician and as the leader of various bands, including the Mighty Croon Dogs. He provides fun musical entertainment to fit the mood at wedding ceremonies and wedding receptions, parties, wine festivals, fundraisers and other special events.

"Guitar Wizard"Billy Foppiano is an inspired player of both acoustic and electric guitar. Using modern musical technology, he can create a whole orchestra's worth of instruments to back up his dynamic electric guitar, offering the sound of a full band for the price of a solo musician. You can hear his upbeat musical style on acoustic guitar once a week at the Otter Rock Cafe, 885 Embarcadero in Morro Bay, where he performs popular favorites and amusing original tunes. (Check the calendar for times!)

Billy and the Mighty Croon Dogs are well-known as the most fun dance band on the Central Coast. Always happy to play and sing anything people ask for, the Mighty Croon Dogs are a popular choice for weddings, festivals and parties.

Keep a look-out at familiar places like the Otter Rock Cafe, Cambria Pines Lodge Cisco's, and The Pozo Saloon, and read the New-Times for up-coming events! Live music in San Luis Obispo is always the BEST!

<![if !supportEmptyParas]> <![endif]>

<![if !vml]><![endif]>
<![if !vml]>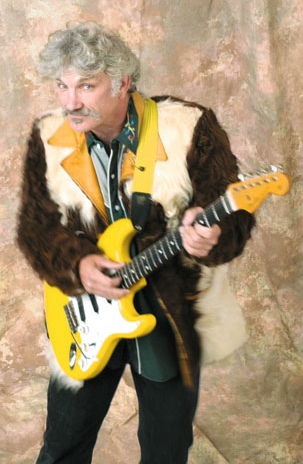 <![endif]> "Guitar Wizard" Billy Foppiano
Live Music + Energy = Fun
<![if !supportEmptyParas]> <![endif]>
<![if !supportEmptyParas]> <![endif]>
By K.J. Johnston
<![if !supportEmptyParas]> <![endif]>
"If you see a peppy black pickup with 'TUNEDOG' plates barrelling along
the road, you might just want to move out of the way!" laughs "Guitar
Wizard" Billy Foppiano. Like a live music express, he buzzes from one end of
SLO County to the other to deliver up a good time, which he considers the
key component of his spirited music.
Follow in the vortex of that whirlwind of allegro energy and you're
likely to end up anywhere in the county, where the indefatigable guitarist
performs in a flurry of settings, sometimes two or three a day.
"You can't be a one-trick pony," says "Guitar Wizard" Billy Foppiano,
who makes his living playing music locally. "This area is sustainable for
musicians who can wear many hats, from solo performances to duos and bands,
from acoustic to electric, from clubs to special events. It's where multiple
personality syndrome can work for you!"
His friends compare the busy musician to James Brown— "the hardest
working man in show business"— but Billy disagrees, saying, "I don't work, I
play. I'm always chomping at the bit to play. And it's always
different---that's the challenging thing. But the bottom line is always
about fun!"
Ask him what kind of music he plays, and he smiles, "I play both kinds-
good and bad! The point is that everybody likes something different, so I
week I played for the sexually violent predator ward at Atascadero State
Hospital, and the next night for a parents' mixer at Mission school. And at
both gigs, they all remembered me from the year before!"
Describing his long-running band, the Mighty Croon Dogs, as
"chameleons," Billy adds, "We fit our groove with everybody else's groove.
That's how we make the connection. It's the ultimate fun package. We coined
the admittedly ungrammatical label — 'the funnest band on the Central
Coast'— because we consider ourselves to be conduits of fun.
"Music is an interactive, good clean way for people to bounce their
bodies around and feel good. There's a tribal element to it too," he says.
With a wide-ranging repertoire spanning the decades, the Mighty Croon
Dogs can play two four-hour gigs back to back and never repeat a song, Billy
says.
"People like to hear familiar songs, but if you're clever you can put
your own spin on it and make it different. The Croon Dogs are the only band
I know that can go from Elvis to a Ben Harper tune, then from Bakersfield
country to the light jazz of Norah Jones, then reggae, Latin, motown or
swing. Even if we don't know a song someone asks for, we'll do it anyway!"
Billy explains with a laugh.
A guitar player since the age of six, Billy didn't expect music to
provide his livelihood. He tried to hang up his instrument while studying
solar electrical engineering at Cal Poly, but college friends persuaded him
to play for them and he's been doing it ever since.
Ten years ago when he gave up his day job and turned to music
professionally, he began by working on his computer day after day,
programming tunes for a computerized back-up band for his solo electric
guitar performances.
Now he uses a new technological trick known as looping for his acoustic
guitar gigs. "I can play guitar passages and record them on the fly, right
there, and then play over the top. It's a whole cacophony of guitars, and
I'm like a composer playing interactive parts all woven together. What a
blast! And if you're clever you don't let them see who's working the levers
behind the curtain and they think you're just a fabulous player," says
Billy
"I'm always evolving musically. It's not as if I'm on an assembly line
cranking out 'Brown-Eyed Girl'. I put a different spin on it every time."
Performing in a duo with singer and stand-up bass player Piper Heisig,
the two focus on '30s and '40s acoustic swing music, which Billy terms
"subtle, very challenging, and lots of fun."
A "stripped-down trio" with bassist Frank Paredes and drummer Jerome
Taylor is another enjoyable combo for the Guitar Wizard. "Those guys are so
good it's like driving a bus downhill. Their rhythm is solid as a rock."
Other trios and quartets, he explains, are "manufactured on the spot,
depending on what's needed. There are so many great musicians in this county
that it's always fun and never boring."
It's a lifestyle that requires boundless energy and enthusiasm to keep
going full steam ahead, sometimes two weeks without a break, up to three
gigs a day. "I need amazing energy reserves, since I'm also a roadie,
driving everywhere, carrying and setting up all the equipment, plus
interfacing with people and staying jolly all the time.
"I'll share my secret: eating a good foundation of live organic food.
We're lucky in this county to have so much fresh organic food available.
I've had virtually no sick days. That's my health insurance," says Billy.
He praises the many local venues and local events where live music is
considered an integral part of the experience. "Live music brings magic to
any event. Music hits you on conscious and unconscious levels and everywhere
in between. It can shape your mood or help you relax or inspire you to jump
around.
"I've been totally mesmerized just by listening to the vibrations. Music
puts you in the here-and-now, where you forget your problems and get lost in
the layers."
An active marketing program has been a crucial part of Billy's local
success. His website at www.funlivemusic.com has had thousands of hits from
all over the U.S., ever since he first developed it after taking a one-day
class at Cuesta College. "Brides from New York or Chicago appreciate the
fact that they can instantly hear live music samples of the band right at
the website, so they can feel good about hiring the Mighty Croon Dogs to
play their wedding on the Central Coast."
For him, playing music outdoors is the best. "Music just sounds better
outside. It's very hard to hit a wrong note when you're playing under the
sky. It really opens up all the senses so you can appreciate the smells, the
sights, the sunlight, the breeze, as well as the music."
With winter coming on, though, he says there'll be more time to work on
his first CD of original songs. Not that he wants worldwide fame and
fortune, however. "I'm just glad to be living here in this beautiful place,
where people appreciate live music. I'm in it because it's fun to do," he
says.
After years of hearing Billy work tirelessly to perfect his guitar
technique, his teenage son Charlie is now considering a musical career too.
Billy's advice: "Don't buy anything if you'll have to make payments, because
you never know when the next money will come in. Keep your footprint on theearth small.
And always take the gig!"
<![if !supportEmptyParas]> <![endif]>